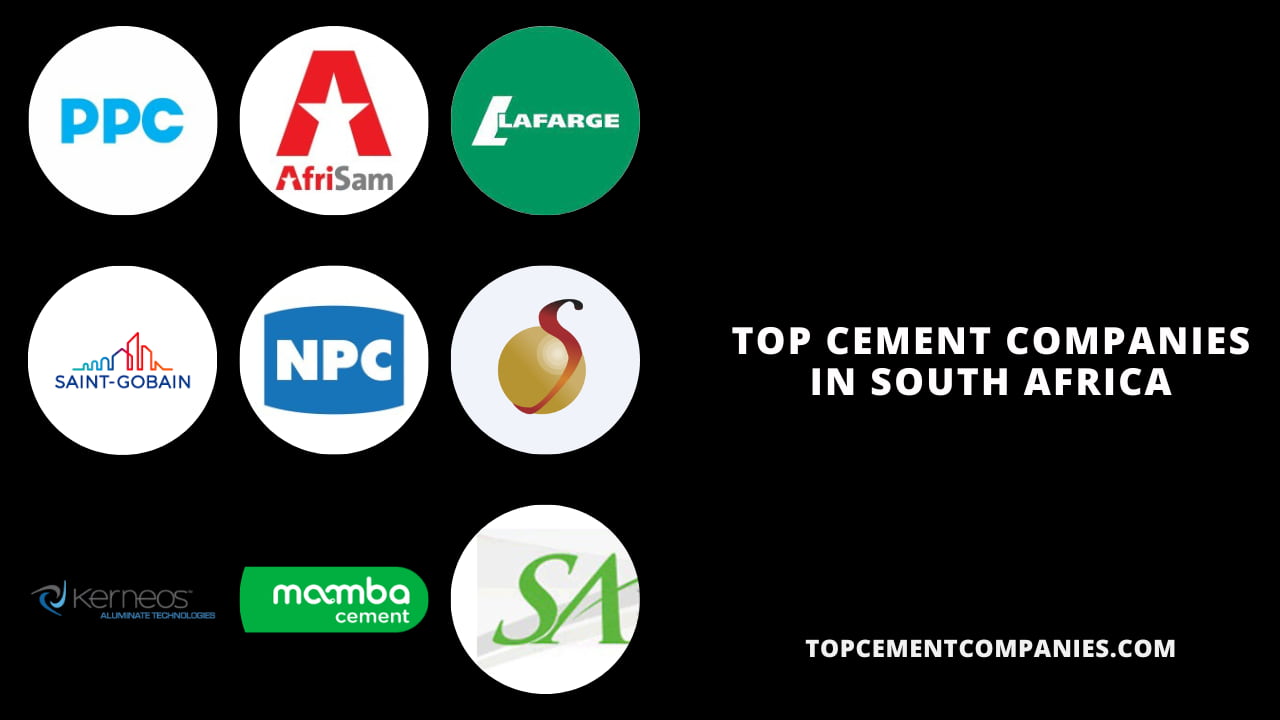 List of Cement Manufacturing Companies in South Africa
| | |
| --- | --- |
| Sr. No. | South Africa Cement Company Name |
| 1 | PPC Ltd |
| 2 | Afrisam (South Africa) (Pty) Ltd |
| 3 | Lafarge Industries South Africa (Pty) Ltd |
| 4 | Saint-Gobain Construction Products South Africa (Pty) Ltd |
| 5 | NPC Intercement (RF) (Pty) Ltd |
| 6 | Idwala Industrial Holdings (Pty) Ltd |
| 7 | Bontebok Limeworks (Pty) Ltd |
| 8 | Sephaku Holdings Ltd |
| 9 | Kerneos Southern Africa (Pty) Ltd |
| 10 | Specialty Minerals South Africa (Pty) Ltd |
| 11 | Mamba Cement Company (RF) (Pty) Ltd (The) |
| 12 | S A Lime and Gypsum (Pty) Ltd |
| 13 | Afrimat Ltd |
| 14 | PBD Holdings (Pty) Ltd |
| 15 | Cemza (Pty) Ltd |
Cement Manufacturers in South Africa As Per City
Sr. No.
Cement Name
Manufacturing City Name
1
Pretoria Portland Cement Company[
Hercules (Pretoria)
Jupiter (Johannesburg)
Dwaalboom
Slurry
De Hoek
Riebeeck West
Port Elizabeth
Saldanha (Slag Grinding Only)
2
Sephaku Cement
Aganang (Lichtenburg)
Delmas (Grinding Station)
3
Lafarge Cement
Lichtenburg
Randfontein (Grinding Station)
Richards Bay (Grinding Station)
4
AfriSam
Dudfield (Lichtenburg)
Ulco (Kimberly)
Roodepoort (Grinding Station)
Vanderbijlpark (Slag Grinding & Blending Station)
Brakpan (Blending Station)
5
NPC Cimpor
Simuma
Newcastle (Slag grinding and cement blending plant)
Coedmore
Also Read: Top 10 Cement Companies in Japan
Cement Plants Located in South Africa
| | | |
| --- | --- | --- |
| Sr. No. | Cement Group Name | No of Plants |
| 1 | Public Investment Corporation Co | 11 |
| 2 | InterCement Portugal, S.A. | 3 |
| 3 | Dangote Cement South Africa | 2 |
| 4 | LafargeHolcim Ltd | 2 |
| 5 | OSHO Cement (Pty) Ltd | 1 |
| 6 | Tangshan Jidong Cement (Group) | 1 |
Also Read: Top 10 Cement Companies in China
Cement Plants Located in South Africa with Cement Companies and Group Name
| | | |
| --- | --- | --- |
| Sr. No. | Cement Group Name | Cement Company Name |
| 1 | Dengote Cement South Africa | Sephaku Cement Limited |
| 2 | InterCement Portugal, S.A. | Netal Portland Cement Company, Ltd. |
| 3 | Lafarge Holicm Ltd. | Lafarge Industrial South Africa Ltd. |
| 4 | OSHO Cement Ltd | Cemza Ltd |
| 5 | Public Investment Corporation Co. | Afrisam Ltd |
| 6 | Public Investment Corporation Co. | PPC Ltd |
| 7 | Tangshan Jidong Cement | Mamba Cement Company |
Also Read: Top 10 Cement Companies in New-Zealand
Top 5 Cement Factories in South Africa
| | |
| --- | --- |
| Sr. No. | Company Name |
| 1 | PPC Ltd |
| 2 | Lafarge Industries South Africa (Pty) Ltd |
| 3 | Sephaku Holdings Ltd |
| 4 | Cemza (Pty) Ltd |
| 5 | NPC Intercement (RF) (Pty) Ltd |
Also Read: Top 10 Cement Companies in France
Best Cement Brands in South Africa
Here, is a list of Best Cement Company in the South Africa.
| | | |
| --- | --- | --- |
| Sr. No | Best Brands of Cement Company | Rating |
| 1 | PPC Ltd | 1.00 ⭐ |
| 2 | Lafarge Industries South Africa (Pty) Ltd | 2.00 ⭐ |
| 3 | NPC Intercement (RF) (Pty) Ltd | 3.00 ⭐ |
| 4 | Sephaku Holdings Ltd | 4.00 ⭐ |
| 5 | Cemza (Pty) Ltd | 5.00 ⭐ |
List of Cement Companies in South Africa
PPC Ltd.
Lafarge Industries South Africa (Pty) Ltd.
Sephaku Holdings Ltd.
Cemza (Pty) Ltd.
NPC Intercement (RF) (Pty) Ltd.
1. PPC Ltd
PPC can trace its beginnings back to more than 125 years to the outskirts of Tshwane (formerly known as Pretoria), South Africa.
Incorporated in 1892 as the first cement manufacturer in South Africa, we have extended our reach across sub-Saharan Africa over the years as a resilient organization adapting and responding to changes in various operating environments.
Cement capacity replacement value R36,0 billion at US$230 per annual tons.
11,6mtpa capacity (cement)
Five aggregate quarries (3.1mtpa)
27 ready mix plants (100 000m3 capacity per month)
One lime factory (1,0mtpa)
Seven integrated cement plants and seven grinding stations
Two fly ash plants (750ktpa)
PPC has a well-developed portfolio in growing markets across sub-Saharan Africa, which allows us to respond to the everchanging economic, operational and political environments.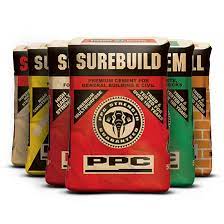 PPC Products
Cement – PREMIUM QUALITY CEMENT
Aggregates – SUPERIOR GRADE AGGREGATES
Ready Mix Concrete – A WIDE RANGE OF CONCRETE PRODUCTS
Premixes – SUPERIOR FINAL PRODUCT
Fly Ash – CLASSIFIED AND UNCLASSIFED
Lime
Also Read: Top Cement Companies in Canada
2. Lafarge Industries South Africa (Pty) Ltd
At Lafarge South Africa, we have a bold vision to shape our future into something extraordinary. Under the guidance of the global Lafarge Group, we have built a legacy for innovative products and forward-thinking solutions that positively impact the country's communities.
We have gained industry-wide trust through world-class expertise and over a century of experience.
We're all about building better cities. We understand that every project we take on is another step towards building accessible, sustainable communities for the future.
We work alongside all the key players in the construction chain to identify needs within the industry, and broader society. That's how we deliver sustainable change and enduring value for our customers.
From cutting-edge technology, to creative building solutions, Lafarge South Africa offers innovative products, extensive resources and unparalleled customer service.
Operating in more than 80 countries worldwide, Lafarge has developed a global footprint that is defined by innovation and trust.
3. Sephaku Holdings Ltd
Sephaku Cement, powered by Dangote Cement, is one of Africa's most proficient producers of integrated cement and clinker. Passionate about helping to build South Africa, we have a reputation for honesty, openness, and humanity; for flexibility, agility and directness.
The first new entrant into South Africa's cement industry since 1934, our business emerged in response to the market's need for something new.
It was time for an ethical and transparent producer; one that would become known for helping hardware retailers and bulk cement users to serve the construction industry with a top-quality yet affordable product.
Sephaku Holdings Limited (SepHold) is a JSE-listed company that offers investors a portfolio of assets focused on the building and construction materials industry.
SepHold's investment portfolio comprises a 100% subsidiary, Métier Mixed Concrete Proprietary Limited (Métier), and a 36% associate, Dangote Cement South Africa Proprietary Limited (SepCem), which are collectively referred to as the group.
The South African cement and mixed concrete manufacturing sector offer promising growth opportunities because they are vital to infrastructure development.
The group invests in modern, efficient capacity and is well-positioned to generate growth and create value for shareholders over the long term. The group utilises state-of-the-art production plants with cost efficiencies that enhance competitiveness.
The operational management has deep industry skills, extensive experience and the ability to execute the strategic objectives successfully.
Dangote Cement is Africa's leading cement producer with 40mt of capacity operational, including three plants in Nigeria, an import terminal and Ghana and recently opened factories in Ethiopia, Zambia, South Africa, Senegal and Cameroon.
It is a fully integrated quarry-to-customer producer with production capacity of 29.25 million tonnes in Nigeria.
Through recent investments, Dangote Cement eliminated Nigeria's dependence on imported cement and is transforming the nation into an exporter serving neighbouring countries.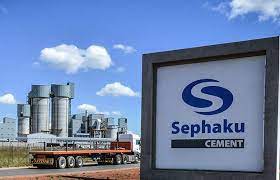 We aim to give customers the best value from their cement through our value-driven approach. Pushing to maximise value through product testing and special mix design support that is provided by a technical laboratory at every plant.
Our operational processes begin at our clinker facility, Aganang in Lichtenburg. Approximately half of the clinker produced is transported to the Delmas milling plant, making the process cost-effective because clinker, rather than cement, is transported.
This approach also enables beneficial raw material return loads to Lichtenburg.
Our fly ash beneficiation plant at the Kendal Power Station, Emalahleni, further bolsters economies of scale.
Today, as a 36% associate company of Sephaku Holdings, we are immensely proud to stand side by side with Dangote Cement, which is Africa's fastest growing industrial company.
AGANANG
The South African Cement Industry's most Powerful New Entrant
Situated in the Northwest province
Spanning 65 Hectares
Capable of producing 1.9 million tons of clinker
Produces approx. 1.2 million tons of cement
Plant Storage Capacity

Semi – finished goods 50 000 tons
Final product 22 000 tons bulk and 20 000 tons bag
Under cover bag storage of 15 000 tons

Raw material storage

Limestone 100 000 tons
Additives 50 000 tons
Coal 30 000 tons
Our Products
SEPHAKU 32R
SEPHAKU SEPROAD
SEPHAKU 42N
SEPHAKU 42R
SEPHAKU 52
Also Read: Top 10 Cement Companies in Finland
4. Cemza (Pty) Ltd
Cemza began working on the project to develop a greenfield cement grinding facility in the Eastern Cape in the early part of the 2010 decade.
The selection of the location at Coega IDZ in Port Elizabeth, South Africa was influenced mainly by the availability of suitable land, ready infrastructure, and access to the port of Ngqura.
Following the site selection, all necessary regulatory approvals and permits were obtained over a period of few years.
A reputed contractor was appointed to oversee the construction of facilities. Cement was first produced at the site on 17 November 2018.
The state-of-the-art facilities and choice of energy-efficient technology; along with an operations team having comprehensive cement industry experience, has poised Cemza to offer a well-engineered and a reliable cement option to our customers.
With a strong geographical footprint spanning across 60 countries on five continents, a significantly expanded Heidelberg Cement Group, employs 59,000 work force at more than 3,000 production sites.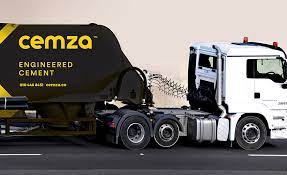 STATE OF THE ART FACILITIES
– Pfeiffer vertical cement mill
– Ventomatic packing line
– Fully covered dome shaped material storage measuring 24,000 square metres
– Four cement silos to store different products
– Energy efficient technology
Our Products
32,5N- General Purpose Cement
42,5N- All Purpose Premium Cement
52,5N- Ultra Strong High Purpose  Cement
Sr. No.
Product Name
Characteristics
Composition
Packaging
1
32,5N
Cemza 32,5N is a general purpose cement suitable for a wide range of domestic applications, from domestic concrete to large building projects, cost effective for all masonry and plaster applications.
Cemza 32,5N is made by grinding limestone and clinker together in our leading edge vertical mill. The fineness of the product improves workability and cohesion.  The product conforms to the international standard SANS 50197-1 in the class CEM III B 32,5N.
Product is available in 50 kg paper sacks, shrink wrapped and palletized on wooden pallets.
2
42,5N
Cemza 42,5N is a premium all-purpose engineered cement with uses ranging from domestic general use to major developments, building projects, civil and construction, mortar and plaster applications.
Cemza 42,5N contains clinker, limestone and gypsum. Constant monitoring of all raw materials in the mix design ensures a high quality performance.
The product complies with SANS 50197-1, CEM III A 42,5N .
Product is available in 50 kg paper sacks, shrink wrapped and palletized on wooden pallets and in bulk truck loads.
3
52,5N
Cemza 52,5N is carefully milled and formulated for ultra-strong and high performing applications including Concrete Product Manufacturing and Ready Mix.
This high precision engineered cement is suitable for high specification concrete, suspended structural beams, precast items such as flagstones and pre-stressed lintels, heavy duty surfaces and industrial workshop floors.
Cemza 52,5N is a premium engineered Ordinary Portland Cement.The product complies with SANS 50197-1, CEM I 52,5N.
Product is available in 50 kg paper sacks, shrink wrapped and palletized on wooden pallets and in bulk truck loads.
Also Read: Top 10 Cement Companies in USA
5. NPC Intercement (RF) (Pty) Ltd
NPC is a member of Intercement (Presence in 9 countries with 39 plants), which is a member of the Carmago Correa Group. Carmago Correa is Brazil's 2nd largest Engineering & Construction company & leader in hydro-electrical power plant construction.
NPC is the original manufacturer and distributor of Cement, Concrete and Aggregate products to the hardware retail, ready-mix, concrete product and construction industries of the East Coast of South Africa.
Our Products
Cement plants – Durban, Newcastle and Port Shepstone
Concrete plants – South Coast, North Coast, Central Durban and Highway Area
Aggregate plants – South Coast and Durban Highway Area
Manufacturing and distributing high quality products, which conform to the highest industry standards, are not the only things we're passionate about.
NPC has a long-standing commitment to communities residing near its operations, and exercises sustainable business practices in the fields of education, housing, environmental and small business development.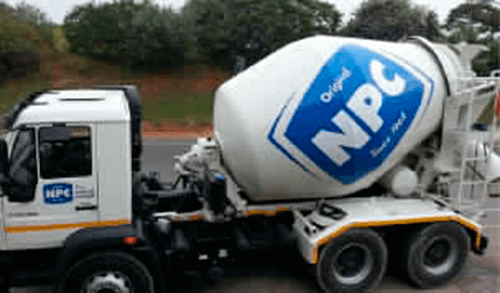 | | |
| --- | --- |
| Year | Description |
| 1964 | Durban Cement Ltd comissions a 150.000 ton-per-annum cement milling plant at Bellair, Durban. All raw materials are imported from the Western Transvaal, Northern Cape and Newcastle to produce 2 interground cements – PC15SL and PBFC. |
| 1972 | The Bellair plant's capacity is increased to 450.000 tons per year with the installation of a second milling system. A rapid hardening cement, RHPC15SL, is added to the product range. |
| 1982 | A 200 ton-per-hour blending plant is installed at Bellair, enabling the company to change from interground to blended cements. |
| 1983 | The company comissions a 450.000 ton-per-year clinker burning plant ar Simuma on the Oribi Gorge Road near Port Shepstone of the South Coast. As a result of this installation the company no longes has to import clinker, its major raw material, from Western Transvaal. |
| 1984 | Now that the company's operations have spread beyond Durban, Durban Cement Ltd changes its name to Natal Portland Cement Company (Pty) Ltd. |
| 1985 | Slagment Ltd commissions a slag milling plant near the Iscor works at Newcastle and contracts to supply NPC Durban with milled slag (GGBS). As the Durban plant no longer has to mil slag, production capacity increases to 900.000 tons per year. |
| 1988 | Natal Portland Cement Company (PTY) Ltd takes over Slagment plant at Newcastle and rationalises the entire commercial function of the company. The company's market area is expanded to incorporate the whole of Natal. Through upgrading of equipment NPC Simuma increases its clinker production capacity to 550.000 tons per annum, enabling Durban plant to product to capacity. |
| 1992 | A new product – Portland Cement Blend (PCB) – is successfully launched at NPC Newcastle, increasing output from the plant to 190.000 tons per annum. |
| 1993 | Newcastle plays an increasing role in the production of cement in Natal with its capacity increasing to 250.000 tons per annum with the addition of a second shift. A new record is set in Natal with a landmark of 1 million tons of cement being produced and sold for the first time during 1993. |
| 1995 | New Head Office building constructed and factory access system undergoes a major upgrade, lowering vehicle transit time, and improving traffic flow. |
| 1996 | Construction completed on new R51m roller press, improving production capacity to 1 million tons per annum. |
| 1998 | Commissioning of R31m 14.000 ton 4-compartment storage silo, complete with 2 x 25 metre werighbridger and full computerisation of all loading and despatch operations. |
| 1999 | Completion of R21m packing and unitising plant, allowing stretchwrapping of bagged cement and further improving despatch facilities. |
| 2001 | NPC implements JD Edwards OneWorld software system in order to achieve world class standards in customer service, manufacturing and all support functions.NPC wind National Supplier of the Year – Build It. |
| 2002 | CIMPOR, Cimentos de Portugal SGPS S.A. acquired the entire shareholding of NPC from Alpha PPC and Lafarge, making NPC a truly independent 4th SA cement producer. NPC wins Silver Award – Institute of Waste Management. |
| 2003 | A decision was undertaken to implement SAP.NPC wins 2nd place for Excellence in Mining Environmental Management Awards.NPC wins Silver Award for PMR – Professional Management Review. |
| 2004 | NPC wins gold award for PMR – Professional Management Review.NPC wins Silver Award – Institute pf Waste Management.Launch for expansion project for 2007.NPC purchases South Coast Stone Crushers, now known as NPC Aggregate and NPC Concrete. |
| 2005 | NPC goes live with SAP in January 2005.NPC wins 1st place – The 2005 KZN's Department of Economic Development's uMyezane Awards for Black Economic Achievement. |
| 2006 | Imports clinker and cement. NPC purchases Sterkspruit and Tinley Manor. |
| 2007 | Cement plant expansion begins – Simuma.New company formed, NPC CIMPOR with a 26% BEE shareholding. |
| 2008 | Simuma Expansion complete with South Africa's first new cement kiln in 20 years. |
| 2009 | NPC CIMPOR launches their ECO mark.NPC CIMPOR launch their first Concrete Photographic Competition. |
| 2010 | First load of waste tyres arrive at Simuma for NPC Alternative Fuel and Resource programme. |
| 2011 | NPC wins the Global Award for a whole year injury free. |
| 2012 | NPC is now a proud member of the InterCement Group of Companies. |
| 2013 | NPC commences participation in the group's Day of Doing Programme, which is a global initiative encouraging employees and their families to spend a day doing good for those in need. |
| 2014 | NPC celebrates 50 years in operation, having opened the business in 1964. |
| 2015 | NPC launches their first Graduate Development Programme, selecting four engineering graduates to participate in an 18 month programme. |
FAQ
Best Cement Brands in South Africa
There are several cement brands in South Africa that are well-known for their quality and reliability. Here are some of the best cement brands in South Africa:
PPC Cement
Lafarge Cement
AfriSam
Sephaku Cement
NPC (Natal Portland Cement)
Top Cement Manufacturers in South Africa
Here are some of the top cement manufacturers in South Africa:
Lafarge South Africa
PPC Cement
AfriSam
Sephaku Cement
Natal Portland Cement (NPC)
Mamba Cement
South Africa's Leading Cement Companies
List of Cement Companies in South Africa
PPC Ltd.
Lafarge Industries South Africa (Pty) Ltd.
Sephaku Holdings Ltd.
Cemza (Pty) Ltd.
NPC Intercement (RF) (Pty) Ltd.
Cement Industry in South Africa
PPC Cement
AfriSam
Lafarge South Africa
Sephaku Cement
Popular Cement Brands in South Africa
Some popular cement brands in South Africa include:
PPC (Pretoria Portland Cement)
AfriSam
LafargeHolcim
Sephaku Cement
Dangote Cement
NPC (Natal Portland Cement)
Mamba Cement
Top 10 Cement Companies in Africa
Here is a list of the top 10 cement companies in Africa:
Dangote Cement
LafargeHolcim
PPC
Bamburi Cement
Titan Cement
Pretoria Portland Cement Company
Morocco Cement Company
ARM Cement
Ashaka Cement
Twiga Cement
Top 10 Cement Companies in South Africa
PPC Cement
Afrisam
Lafarge South Africa
Dangote Cement South Africa
Sephaku Cement
Natal Portland Cement (Npc)
Mamba Cement
Pretoria Portland Cement (Ppc)
Cemza Cement
Afrisam – Ulco Cement Plant
Concrete Companies
CEMEX
CRH plc
Buzzi Unicem
Vulcan Materials Company
CEMEX USA
Types of Cement in South Africa
The most widely used types of cement in South Africa include:
Ordinary Portland Cement (OPC)
Portland Pozzolana Cement (PPC)
Masonry Cement
White Cement
Sulfate-Resistant Cement
High-Strength Cement
Cement Suppliers in South Africa
Here are some cement suppliers in South Africa:
Lafarge South Africa
PPC Ltd
AfriSam
Sephaku Cement
NPC Cimpor
Afrisam South Africa Pty Ltd
Mamba Cement
How Much Is a Bag of Cement in South Africa?
The price of a bag of cement in South Africa can vary depending on various factors such as the brand, location, and quantity purchased. Additionally, market conditions and inflation can also influence cement prices.
Cement Wholesalers in South Africa
Here are some cement wholesalers in South Africa that you can consider:
Lafarge South Africa
PPC Cement
Afrisam
Sephaku Cement
NPC-Cimpor
How to Invest in Cement Business?
Investing in the cement business can be a profitable venture, as the demand for cement is generally high due to the construction industry's growth. Here are some steps to consider when investing in the cement business:
Conduct Market Research
Create a Business Plan
Determine Your Investment Size
Choose the Investment Model
Establish Partnerships
Secure Financing
Obtain Necessary Permits and Licenses
Set Up Infrastructure
Implement Marketing and Sales Strategies
Monitor and Adapt
Video for Information of Knowledge
Like this post? Share it with your friends!
Suggested Read –